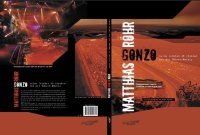 "Meine letzten 48 Stunden mit den Böhsen Onkelz" ("My last 48 hours with the Böhse Onkelz").
2006 beim IP Verlag in Berlin erschienen. Das Buch ist ausverkauft und wurde nicht neu aufgelegt.
Published in 2006 by IP Verlag in Berlin. The book is sold out and was not reprinted.
"Out Of The Great Depression"
Matt´s drittes Soloalbum "Out Of The Great Depression" ist ein "EarBook" und wurde in Europa über Edel Records veröffentlicht. Das Album ist im Handel erhältlich.
Matt's third solo album "Out Of The Great Depression" is a so called "EarBook" and was released in Europe via Edel Records. The album is available in stores and online.
"GONZO – DIE OFFIZIELLE BIOGRAFIE"
Seit dem 14. November 2019 steht die offizielle Biografie von Matt Roehr im Buchhandel. "GONZO" erzählt auf annähernd 400 Seiten, wie aus dem jungen Matthias Röhr der "Gonzo" bei den legendär-mächtigen Böhsen Onkelz wurde. Wie die gemeinsamen Wege und Schicksale dieser vier Männer bis an die Spitze des deutschen Rockolymps reichten, nur um dann in ganz tiefe Gräben, persönliche Höllen und ihre Bestandteile zu zerfallen.
Aber noch so viel mehr, schließlich haben sich in fast sechs Jahrzehnten Matthias Röhr Erinnerungen und Erlebnisse für mindestens zwei Leben angesammelt. Memoiren, die gewissenhaft von Dennis Diel und Marco Matthes, den beiden Autoren des Buches, auf- und nachgezeichnet wurden. Von der Kindheitsprägung im hessischen Dorf über die rebellische Jugendphasen, in denen Provokation, Ablehnung und Punk mindestens genauso wichtig waren wie die Musik, die aus den Boxen schepperte und die Bands, die sie spielten. Die Liebe zu seiner Frau Verena, die Roehr 1987 kennenlernte und die bis heute hält. Die Geburt der beiden Söhne, Vincent und Melvin, die ganz viel Freude und Licht brachten, wohingegen die Onkelz oft auch mit Schatten zu kämpfen hatten. Das Leben des Matt G.R. in epischer Breite und aus seiner Sicht heraus nacherzählt. Mit unzähligen wert- und gehaltvollen Anekdoten sowie O-Tönen von Freunden und Familie.
Rock Hard und der Metal Hammer vergaben Bestnoten für die Biografie und die Leserinnen und Leser Höchstbewertungen bei den einschlägigen Verkaufsportalen. Vorboten, die sich auch als spannender Erfolg am Buchmarkt bemerkbar machten. Platz zwei der renommierten Spiegel Bestsellerliste war das Geschenk, das die Fans dem Musiker und seinen Autoren kurz nach der Veröffentlichung machten.
Das sagt Gonzo selbst zur Entstehung seiner Biografie:
Die Arbeit an "GONZO" war ungeheuer spannend. Dennis und Marco haben mein Leben durchleuchtet und wir haben uns in unzähligen Interviews und durch über 200 Stunden Gesprächsmaterial durch insgesamt sechs Dekaden gearbeitet. Was für eine Aufgabe. Was für ein Berg an Arbeit! Aber auch eine inspirierende und stimulierende Herausforderung. So viele Erinnerungen, die so lange verborgen und verschüttet waren. Entweder, weil die Zeit (wie sie nun mal so ist …) einen dichten Nebel über die Jahre gelegt, oder weil mein Unterbewusstsein manch schlechte Erfahrungen einfach verdrängt hatte. Ich erinnerte mich seit Jahren das erste Mal bewusst wieder während der Arbeit an GONZO an so viele Dinge die mich geprägt haben. Abgefahrene Zeiten. Wild und frei. Unbeugsam und immer mit dem Kopf durch die Wand. Und daran, wie die Onkelz anfingen, wie ich zu ihnen stieß und wir von ganz unten langsam, aber stetig, nach ganz oben aufstiegen.
Dennis und Marco haben nichts schönschreiben müssen, weil absolute Ehrlichkeit ein zwingendes Muss für die Biografie und deren Gelingen war. Und auch, dass meine Bandkollegen sich öffneten und Pe ein paar herrliche Anekdoten aus den ganz jungen Anfangstagen der Böhsen Onkelz zum Besten gab, rechne ich den Onkelz hoch an. Aber auch Bobby, mein Schwager, Sonja, meine Schwägerin, Martin, mein Bruder, Anna, meine Schwägerin, Norbert Nebenführ – mein alter Bandkollege aus den ganz späten Siebzigern, als wir im Keller von Norberts Elternhaus HEADLINER gründeten und uns für unbesiegbar und unsterblich hielten, haben ihren Anteil an diesem Buch. Mit noch vielen weiteren anderen tollen Menschen, die ich im Laufe der letzten Jahrzehnte kennenlernen durfte. Die irgendwann meine Wege kreuzten und sich mit mir angefreundet haben.
Dass GONZO Platz 2 der Spiegelbestsellerliste direkt bei Erscheinen erklimmen konnte, erfüllt Dennis, Marco und mich mit Stolz. Noch schöner ist aber, dass das Buch bei euch da draußen so gut angekommen ist, wie wir es immer gehofft hatten. So viele positive Rezensionen in den einschlägigen Online-Portalen, so viele schöne E-Mails, die uns erreicht haben und in denen die Leute sich für das Buch und die daran niedergeschriebenen Memoiren bedanken. Danke für euer Lob und das Interesse an meinem Leben.
"GONZO – THE OFFICIAL BIOGRAPHY"
Since November 14, 2019, the official biography of Matt Roehr is in bookstores. "GONZO" tells on nearly 400 pages how the young Matthias Röhr became the "Gonzo" in the legendary powerful Böhsen Onkelz. How the common paths and destinies of these four men reached to the top of the German rock Olympus, only to disintegrate into very deep trenches, personal hells and their components.
But so much more, after all, in almost six decades Matthias Röhr accumulated memories and experiences for at least two lives. Memoirs that have been conscientiously recorded and traced by Dennis Diel and Marco Matthes, the book's two authors. From the childhood imprinting in the Hessian village to the rebellious youth phases in which provocation, rejection and punk were at least as important as the music that rattled out of the speakers and the bands that played it. The love for his wife Verena, whom Roehr met in 1987 and which lasts to this day. The birth of the two sons, Vincent and Melvin, who brought a lot of joy and light, whereas the Onkelz often had to deal with shadows. The life of Matt G.R. in epic breadth and retold from his point of view. With countless valuable and substantial anecdotes as well as O-tones of friends and family.
Rock Hard and the Metal Hammer awarded top marks for the biography and readers top ratings on the relevant sales portals. Harbingers that also made themselves felt as an exciting success on the book market. Second place on the renowned Spiegel bestseller list was the gift that fans gave the musician and his authors shortly after publication.
This is what Gonzo himself says about the genesis of his biography:
The work on "GONZO" was tremendously exciting. Dennis and Marco have examined my life and we have worked our way through a total of six decades in countless interviews and through over 200 hours of interview material. What a task. What a mountain of work! But also an inspiring and stimulating challenge. So many memories that had been hidden and buried for so long. Either because time (as it is …) put a thick fog over the years, or because my subconscious had simply repressed some bad experiences. For the first time in years, while working on GONZO, I consciously remembered so many things that had shaped me. Crazy times. Wild and free. Unbending and always with my head through the wall. And how the Onkelz started, how I joined them and how we slowly but steadily rose from the bottom to the top.
Dennis and Marco didn't have to embellish anything, because absolute honesty was an absolute must for the biography and its success. And I also credit the Onkelz with the fact that my bandmates opened up and Pe told a few wonderful anecdotes from the very young early days of the Böhsen Onkelz. But also Bobby, my brother-in-law, Sonja, my sister-in-law, Martin, my brother, Anna, my sister-in-law, Norbert Nebenführ – my old band mate from the very late seventies, when we founded HEADLINER in the basement of Norbert's parents' house and thought we were invincible and immortal, have their share in this book. Along with many other great people I've had the pleasure of meeting over the decades. Who crossed my paths at some point and became friends with me.
The fact that GONZO was able to climb to number 2 on the Spiegel bestseller list immediately upon publication fills Dennis, Marco and me with pride. But it's even nicer that the book was as well received by you out there as we had always hoped. So many positive reviews in the relevant online portals, so many nice emails that have reached us, in which people thank us for the book and the memoir written down on it. Thank you for your praise and interest in my life